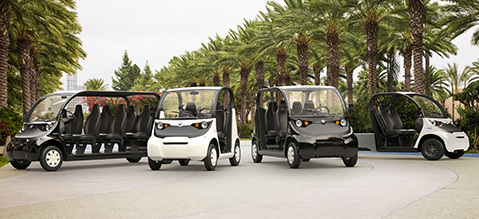 It's time to expect more out of urban and campus fleets. The next-generation of your business will require a safe, sustainable, and cost-effective way to move people and cargo. All-electric, street-legal GEM vehicles do just that without compromising reliability or utility. GEM also provides premium comfort, safety, and appearance for a variety of professional operations.
Safe – Street-legal on 35 mph roads as a Low-Speed Vehicle (LSV)
Sustainable – All electric means zero tailpipe emissions
Cost efficient – No fuel costs and low maintenance
Customizable – Thousands of configurations for your specific need
Transport people around campuses or facilities in distinctive comfort with GEM's spacious, ergonomic design and safety features.
GEM® e2
Starting at
$16,510
CA MSRP
Small footprint and nimble mobility for tight spaces for two
Two passenger
Public safety and housekeeping packages
GEM® e4
Starting at
$19,411
CA MSRP
Shuttle vehicle with a mid-sized footprint for up to four
Four passenger with all four seats facing forward
Shuttle, tour, public safety, housekeeping packages
GEM® e6®
Starting at
$23,937
CA MSRP
Cost-efficient for organizations, safe for the community, and enjoyable for six
Six passenger with all six seats facing forward
Shuttle and tours packages
With up to 1,400 lbs. of payload, zero emissions, and hundreds of customization options, count on GEM to get the job done efficiently, economically, and sustainably.
GEM® eL XD
Starting at
$20,959
CA MSRP
This hardworking vehicle provides 1,250 pounds of towing capacity and 1,400 pounds of payload capacity with many customized utility packages.
Two passenger with Utility Bed
Maintenance, repair, construction, technician, delivery packages
SUSTAIN—A big payload should leave a small footprint
The average college fleet of gas powered vehicles requires 13,700 mature trees to offset the carbon emissions.
SAVE - Because Your Fleet Should Cost Pennies, Not Dimes
With a lower annual cost of operation, GEM can save the average college over $4.7 Million (US dollars) over 7 years.
ACQUIRE—Converting your fleet should be easy
With our knowledgeable sales staff and advanced tools, we can show you how much you can save by converting to the all-electric GEM. Contact us today!
Please consult your GEM dealer for the latest color offerings and options.