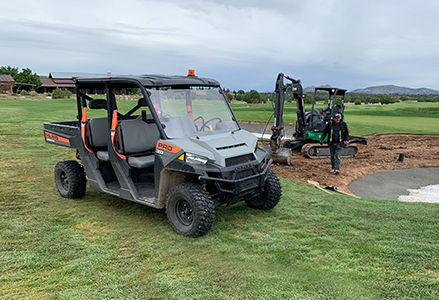 Polaris Pro XD Scores Hole-In-One for Construction Reliability
Spending a Friday afternoon on the golf course is the dream of many. Mark Maldonado, project superintendent for Heritage Links, gets to live that dream six days a week. Located in Temecula, California, Heritage Links is a Certified Builder by the Golf Course Builders Association of America. By utilizing a total-project approach, decades of construction expertise and leading-edge technology, the company provides world-class, comprehensive construction services for clients from golf course owners to land developers.

Quality, attention to detail and timeliness are central to the Heritage Links' superior construction process, and a major reason it's been in business more than 75 years. So naturally, when Maldonado needed to add to his UTV (Utility Task Vehicle) fleet, durability and versatility were key attributes. Transporting equipment and traveling across the course takes a safe and productive off-road vehicle that can perform no matter the landscape conditions. Towing and payload were also critical components. Maldonado felt the visual aesthetics — tough and heavy-duty — were also of consideration.
"The Polaris Pro XD 4000D is a rugged and reliable UTV," said Maldonado. "I use it six days a week, 7am to 4pm, and it drives like the day it arrived. Productivity is key out on courses. This level of dependability is required."
Like many customers, Maldonado rents his UTVs. The diesel Pro XD utility vehicle fulfills the golf courses need for off-road mobility with payload flexibility, while maintaining a narrow width for maneuverability. "This UTV works very well in comparison to others I've used," said Maldonado.

The Pro XD is designed for less frequent service and easier to conduct daily maintenance checks, which is key since Maldonado uses the vehicle over nine hours per day, six days a week. There are also sensors to alert the driver of maintenance issues before they require vehicle service. These best-in-class features help to minimize down time, all so Heritage Links can keep driving business forward.