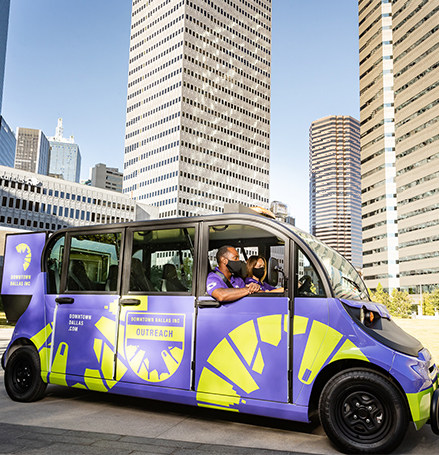 The Downtown Dallas Experience is Enhanced with Polaris' All-Electric, Street Legal GEM Vehicles
Clean and safe in downtown. This is the commitment of Downtown Dallas, Inc. (DDI), a team that works seven days a week patrolling and maintaining 1,000 acres of the urban area. From picking up litter and removing graffiti to assisting with public improvement projects and contributing to public safety programs, DDI ensures the streets, parks and other public spaces are maintained to the highest of standards and are some of the safest in the city. Meeting such standards, however, doesn't come without its challenges.
When DDI began, they used a fleet of standard-sized pickup trucks, quickly discovering the difficulty of maneuvering safely and efficiently through the parks and public spaces of downtown. Additionally, as the team and its fleet grew so did its goal of reduce their carbon footprint. After trials with golf carts, mini-vans and other vehicle options, the team found the perfect fit to innovate their operations and meet their goals of safety, sustainability, and cost-efficiency without compromising the job at hand with the Polaris' GEM low-speed vehicles (LSV).
"DDI is an organization that promotes micro-mobility, transit innovation and "right-sizing" mobility systems," said Dustin Bullard, EVP, Economic Development & Place of Downtown Dallas, Inc. "The GEMs allow us to practice what we preach."
Safety Through Busy Streets

When work entails moving in and around city streets and park paths, agility is crucial for safety and efficiency. To increase maneuverability, the team swapped out its pick-up trucks to electric golf carts. The DDI crews, however, didn't feel safe driving golf carts on the city roadways. With a more robust body than a traditional golf cart, the teamed discovered the all-electric Polaris GEM vehicles and were instantly hooked. GEMs are street legal on 35 mph roads and fitted with standard safety features – such as headlights, taillights, turn signals, speedometer, mirror, horn, windshield and seat belts. Features that help the DDI team to not only feel safe every time they get behind the wheel, but comfortable navigating through the traffic of busy downtown areas.
In addition to increased mobility, the small footprint of the GEM vehicles has helped DDI meet its efforts of reducing vehicle congestion and carbon emissions within Dallas' downtown area.
Sustainability that Meets Environmental Goals

To efficiently cover the downtown area, the DDI team relies heavily on their fleet of vehicles. A reliance they didn't want to lead to increased city congestion and air pollution. With a combustion engine emitting an average of 12,000 pounds of carbon dioxide annually, DDI knew that traditional vehicles would not meet their sustainability goals – especially as their team grew. The GEMs allow the team to work and drive responsibly while producing zero carbon emissions. Additionally, the GEMs are low-maintenance vehicles, allowing the team to operate efficiently without worry of costly breakdowns or unexpected repairs.
By making the switch from gas-powered vehicles to the all-electric GEMs, DDI has seen significant savings in overhead costs – in both fuel consumption and overall vehicle maintenance as well as the initial purchase price. GEM vehicles, for example, have an average cost of $0.03 per mile to charge, a significantly lower figure than an estimated average of $0.19 per mile to fuel a traditional internal combustion engine vehicle. This reduction in costs for DDI enabled the team to expand their fleet of GEMs more than they could have with the use of traditional vehicles.
Savings that Doesn't Compromise Productivity

DDI leverages GEM's full line of passenger and utility vehicles. With a lower total cost of ownership, GEM vehicles have proven to be a budget-friendly alternative to traditional internal combustion vehicles. A cost-savings that hasn't come at a price of getting the job done, instead helping DDI boost productivity throughout their operations.
Today, DDI's fleet of GEMs perform a variety of jobs for the innovative organization. DDI uses GEM eL XD utility carts for park maintenance and city cleanup, as well as GEM e2, e4 and e6 passenger vehicles for city patrol and homeless outreach. The DDI Clean Team outfitted a GEM to serve as a mobile pressure washing unit for efficient sidewalk washing and graffiti clean-up, helping to remove more than 3,000 pieces of graffiti from public spaces each year. The team also leverages additional GEM eL XD utility carts for routine city street and park maintenance. With the carts' generous ground clearance, total payload capacity of 1,400 pounds and maneuverability, the team is able to annually remove more than 3,000 cubic yards of litter from downtown streets – all while carrying people, equipment and not having to unload constantly.


DDI also works directly with the Dallas Police Department and other safety organizations to coordinate efforts. DDI enhances security in Downtown Dallas by providing extra eyes and ears for the police department through its additional 45 officers. The DDI Security Team is equipped with two GEM e2 and two GEM e4 vehicles to navigate and patrol the areas. The two- and four-passenger vehicles are equipped with a flashing strobe light and a mounted spotlight for added night security and visibility.
Additionally, the DDI Homeless Outreach Team utilizes the 6-seater GEM e6 passenger vehicle with the large trunk lockbox. The unique and friendly look of the GEMs provide an approachable vehicle platform for the crews, while the expanded seating and cargo area provide enough storage to create a mobile office. This allows the outreach team to connect those experiencing homelessness with services in the field and on the go.
With a mission to stimulate a vibrant and sustainable downtown environment, DDI works every day to improve the quality of life for workers, visitors and residents. Through increased agility, productivity, sustainability and responsibility, the fleet of GEM vehicles continues to help DDI meet that mission.
Learn more about and see the full line of all-electric Polaris GEM vehicles, here.