Industry-Leading Features
The RANGER EV never needs gas and requires very little maintenance, while offering superior efficiency compared to competitors.
With a 454 kg (1,000 lb) payload capacity and 680 kg (1,500 lb) towing capacity, the RANGER EV ensures that you can work hard and tackle the biggest jobs.
A full 22.9 cm (9 in) of suspension travel in the front and 22.9 cm (9 in) of Independent Rear Suspension travel in the back, plus turf-friendly Carlisle tires to ensure a smooth ride on every type of terrain.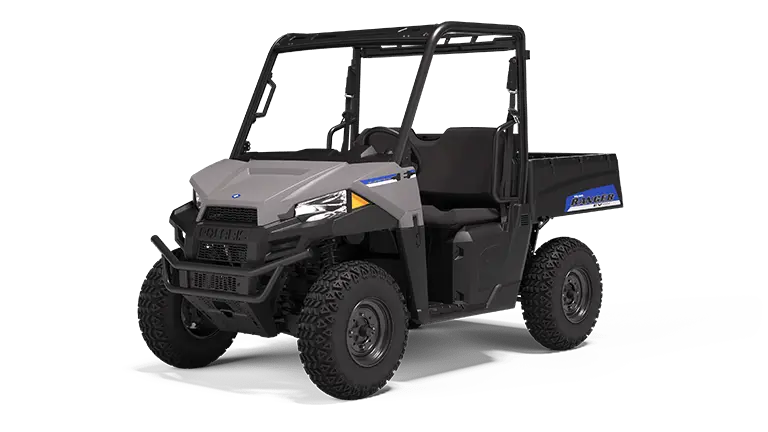 WIDTH

58"

HP

30

CLEARANCE

10"
RANGER® EV
Starting at
$14,599
CA MSRP
Trim & Color options
Avalanche Gray
30 HP
Single 48-Volt, High-Efficiency, AC-Induction Motor
1,000 lb Payload Capacity
1,500 lb Towing Capacity
10" Ground Clearance
2-Person Seating Capacity
Better protect your investment from damage by adding a front brush guard.
This bed storage box has enough room to store all the tools you need to get the job done.
Carry up to 5 tools securely around the jobsite.
Increase visibility on the jobsite for added safety for you and others working around you.
Stay comfortable and protected from the elements while working.
Enhance your safety and awareness of obstacles behind you.
<span></span>

Horsepower

<span></span>

30

<span></span>

Engine Type

<span></span>

Single 48-Volt, High-Efficiency, AC-Induction Motor

<span></span>

Cargo Bed Capacity

<span></span>

226.8 kg (500 lbs)

<span></span>

Payload Capacity

<span></span>

453.6 kg (1000 lbs)

<span></span>

Towing Capacity

<span></span>

680.4 kg (1,500 lbs)

<span></span>

Person Capacity

<span></span>

2

<span></span>

Ground Clearance

<span></span>

25.4 cm (10")
<span></span>

Drive System Type

<span></span>

On-Demand True AWD/2WD/Versa Trac Turf Mode

<span></span>

Front Suspension

<span></span>

MacPherson Strut 22.9 cm (9") Travel

<span></span>

Rear Suspension

<span></span>

Dual A-Arm, IRS 22.9 cm (9") Travel