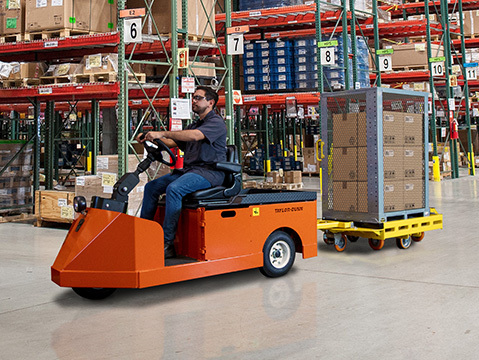 High-Performance Features
The extra large towing capacities and tough, rugged engineering of industry-leading Taylor-Dunn tow tractors provide cost-effective industrial and ground-support solutions for the hardest jobs.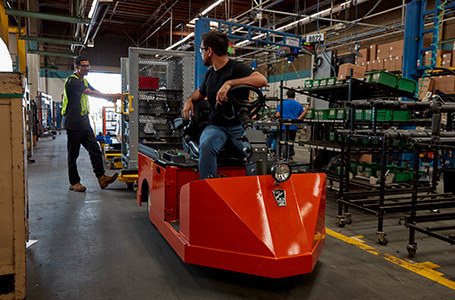 Not only are Taylor-Dunn tow tractors available in multiple power options, but they are highly maneuverable and fully customizable to meet any need.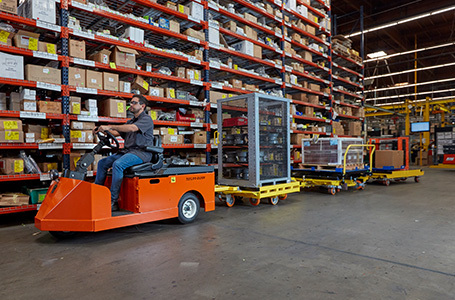 Comfort and Safety Features
Increased ergonomics, visibility, and several additional options add to the safety and comfort of operators during daily operations.
E-451
Stand up tow tractor for tight aisle use.
C-425
Indoor/outdoor electric tow tractor.
E-457
Stand up tow tractor for towing up to 15,000 pounds.
TT-316
Manufacturing and warehouse tow tractor to tow up to 16,000 pounds.
C-426
Compact and maneuverable tow tractor with high towing capacity.
Tiger 30/60 Li-Ion
The Tiger 30/60 is manufactured with a 100% steel body-on-frame design. This model offers capabilities, operations, and serviceability that's familiar and proven in the ground support equipment space, making it seamless to electrify your fleet.
Tiger 30/60 XD Li-Ion
The Tiger 30/60 XD Li-Ion is manufactured with a 100% steel unibody frame, providing added rigidity for the harshest environments. The XD model is best for operators looking to electrify their fleet with premium durability, control, safety, and comfort.
Optional popular accessories: head/tail light, battery status indicator, hour meter, motion alarm, strobe light, and reverse buzzer
E-451
Safety Orange
Features:
24 volt electric
Speed up to 6 mph (9.6 km/h)
Range up to 18 miles (29 kilometers)
Optional popular accessories: full cab with doors and left side battery extract on frame
C-425
Two Tone: Red/Gray
Features:
48 volt AC electric
Speed up to 8 mph (13 km/h)
Range up to 30 miles (48 kilometers)
Optional popular accessories: brake lights, automatic coupling hitch, motion alarm, strobe light, hour meter, head/tail light, battery status indicator, and reverse buzzer
E-457
Safety Orange
Features:
36 volt electric
Speed up to 6 mph (9.6 km/h)
Range up to 18 miles (29 kilometers)
Optional popular accessories: non-marking tires, rubber front bumper, and strobe light
TT-316
Safety Orange
Features:
36 volt AC electric
Speed up to 8 mph (13 km/h)
Range up to 18 miles (29 kilometers)
Optional popular accessories: full cab with doors, extra cushion traction tires, and automatic coupling hitch
C-426
Two Tone: Red/Gray
Features:
48 volt AC electric
Speed up to 10 mph (16 km/h)
Range up to 30 miles (48 kilometers)
Tiger 30/60 Li-Ion
Bright White
Features:
Lithium-Ion Electric
Speed up to 13 mph (21 km/h)
Tow capacity of 60,000 lbs. (27,216 kg)
Tiger 30/60 XD Li-Ion
Bright White
Features:
Lithium-Ion Electric
Speed up to 13 mph (21 km/h)
Tow capacity of 60,000 lbs. (27,216 kg)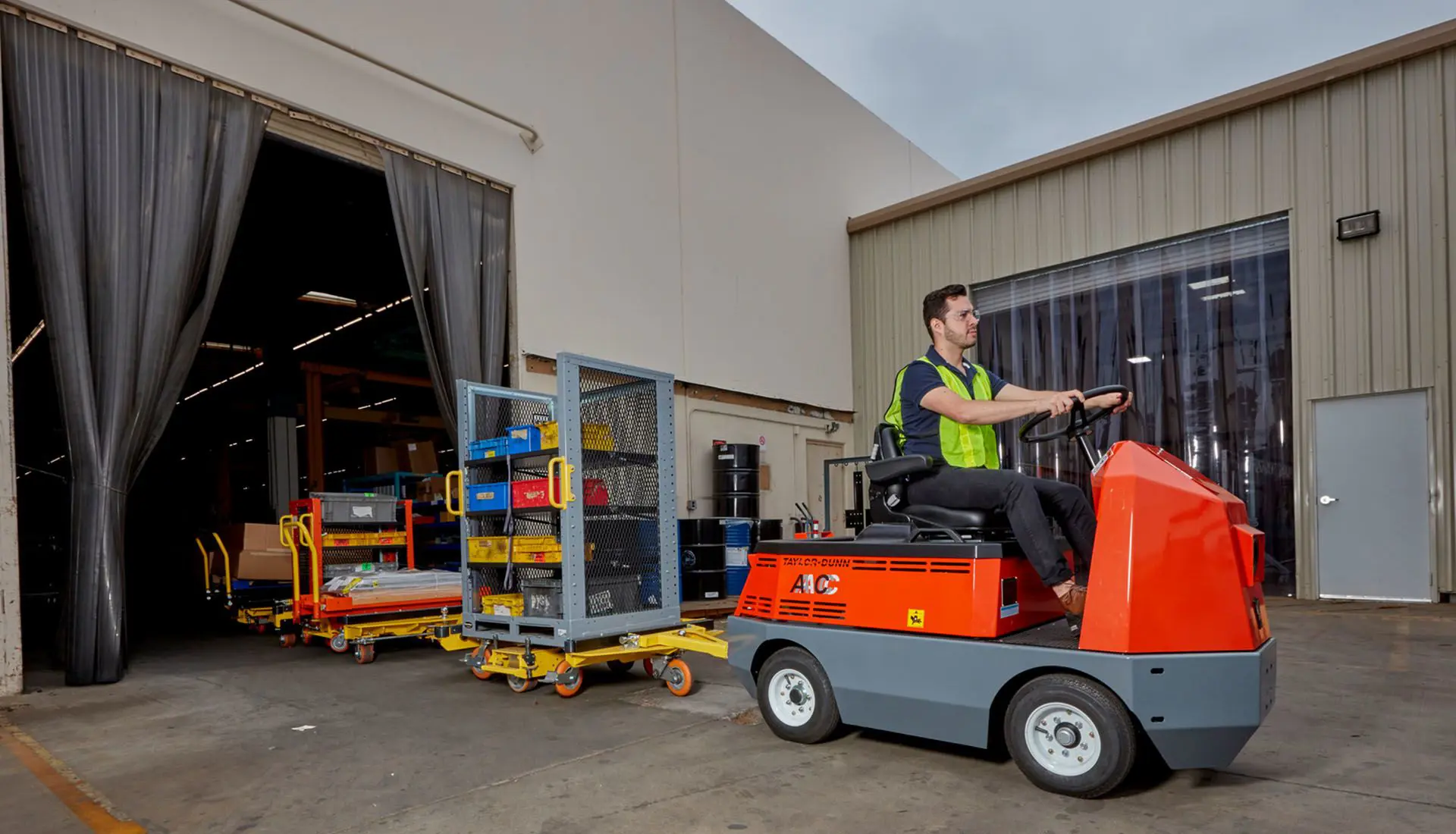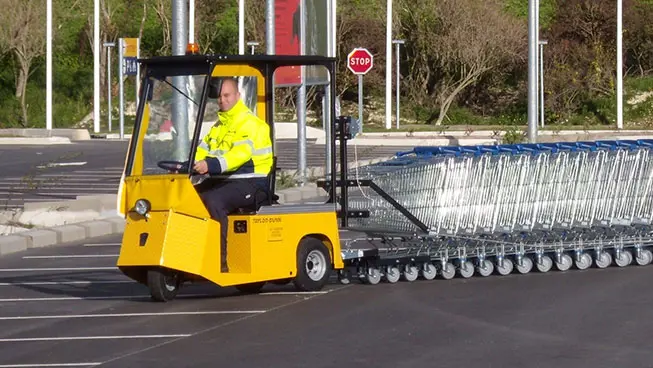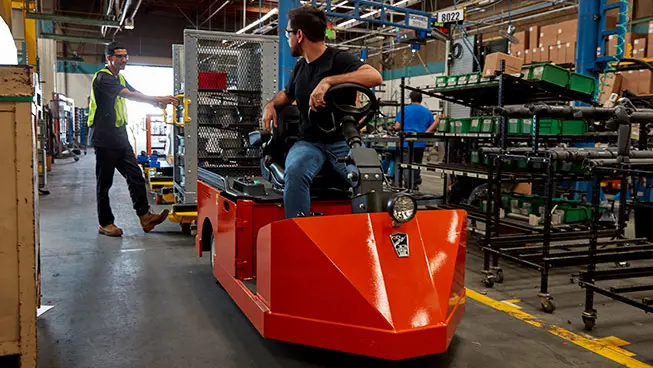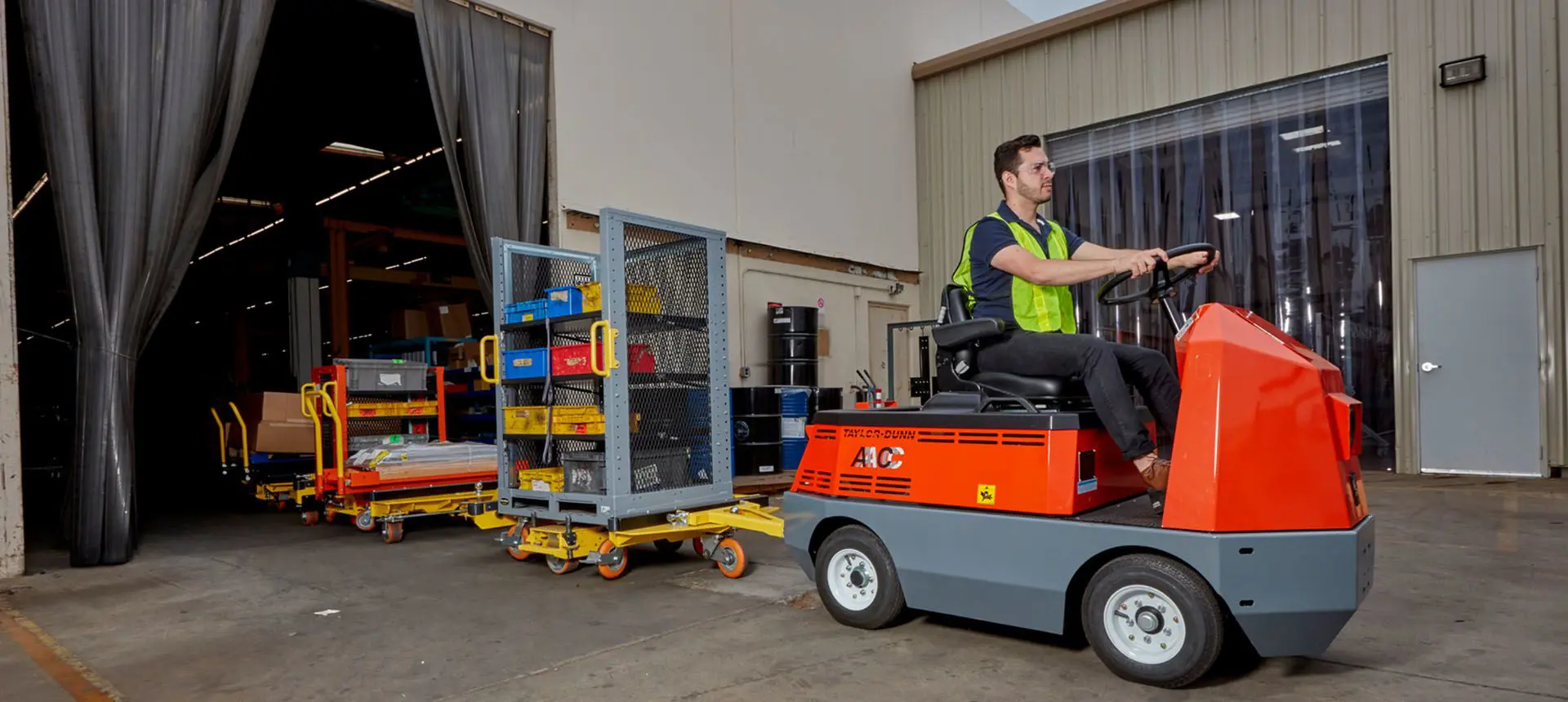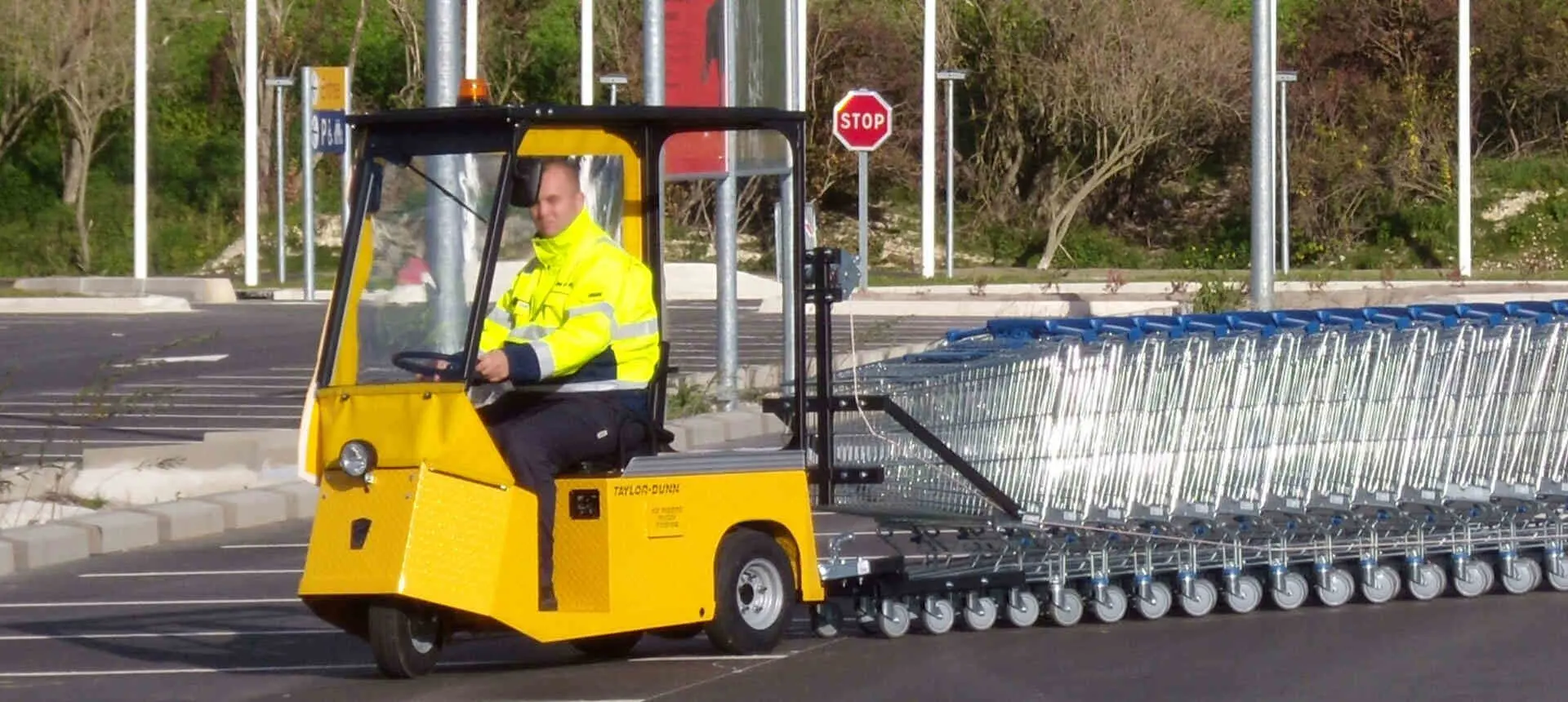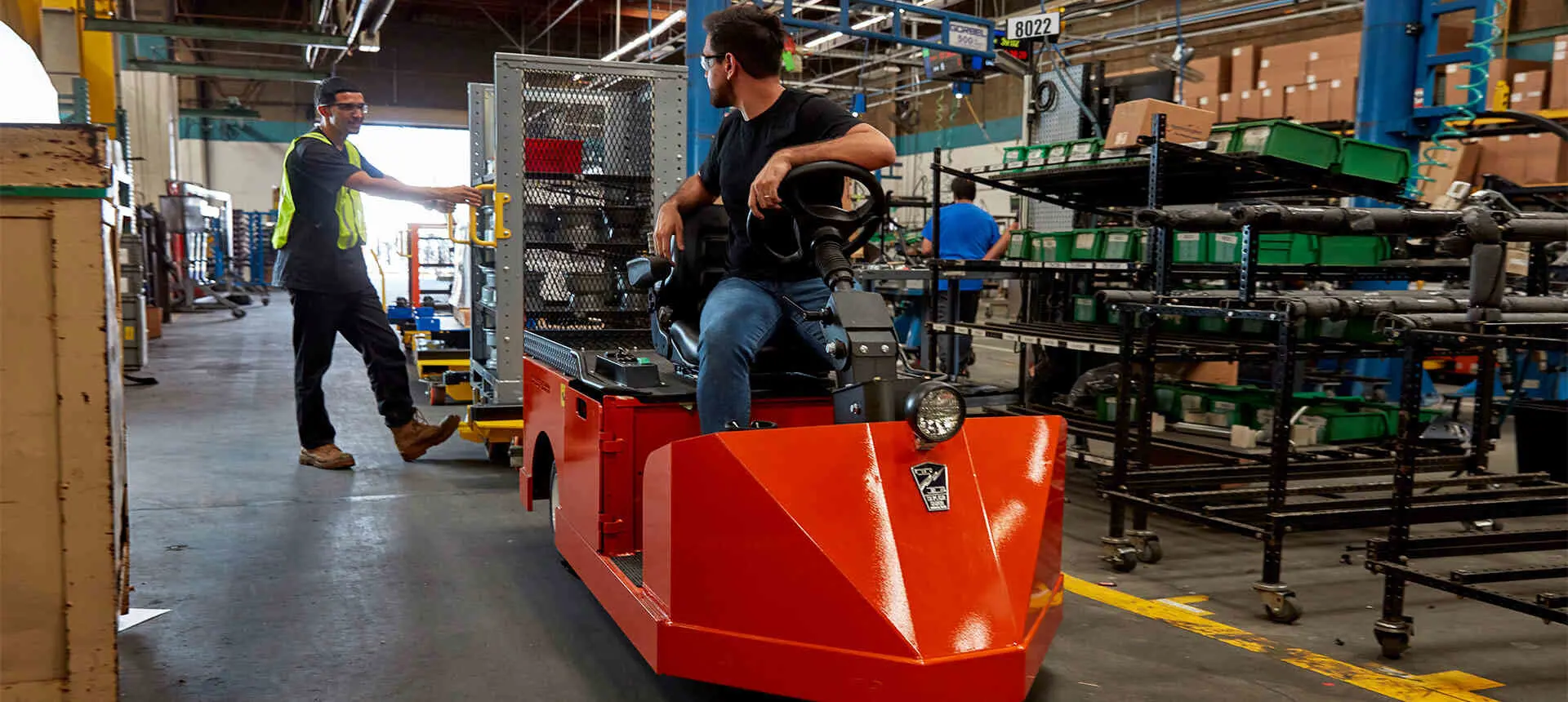 Vehicles
Load Capacity
Towing Capacity
Person Capacity

Vehicles

E-451

Load Capacity

N/A

Towing Capacity

10,000 lb (4535.9 kg)

Person Capacity

1

Vehicles

C-425

Load Capacity

N/A

Towing Capacity

15,000 lb (6803 kg)

Person Capacity

1

Vehicles

E-457

Load Capacity

N/A

Towing Capacity

15,000 lb (6803.8 kg)

Person Capacity

1

Vehicles

TT-316

Load Capacity

400 lb (181 kg)

Towing Capacity

16,000 lb (7257 kg)

Person Capacity

1

Vehicles

C-426

Load Capacity

N/A

Towing Capacity

30,000 lb (13607.7 kg)

Person Capacity

1

Vehicles

Tiger Lithium-Ion

Load Capacity

N/A

Towing Capacity

60,000 lb (27215 kg)

Person Capacity

1-2