High-Performance Features
Taylor-Dunn products are built to standards that ensure long-lasting durability and reliability. They are engineered to ensure years of rugged performance that you can count on every day.
Taylor-Dunn products can be used for almost any application with a large portfolio of electric or gas vehicle options that are fully customizable to transport people or move material.
Comfort and Safety Features
With improved comfort, ergonomic design, low step height, and built-in safety features, people are taken care of inside and outside of the vehicle.
Taylor-Dunn Utility Vehicles
MX-600
Perfect maintenance cart for indoor/outdoor applications.
C-432
Sit down utility vehicle with tight turning radius perfect for tight spaces.
MX-1600
Perfect for maintenance applications with a built-in tool box and ladder rack.
B-150
Electric utility vehicle designed to maneuver in tight spaces.
B-200
Electric utility vehicle for general utility applications.
Bigfoot® Lithium Ion
Ergonomic electric utility vehicle for indoor/outdoor use.
Bigfoot® Lithium Ion XL
High payload and towing capacities for indoor/outdoor use.
Bigfoot® 3000
Fully cabbed utility vehicle for outdoor operations.
Popular additional accessories: soft solid tires, onboard charger and high capacity batteries
MX-600
Industrial Blue
Features:
24 volt electric
Speed up to 9 mph (14 km/h)
Range up to 20 miles (32 kilometers)
Optional popular accessories: headlights, stoplight, reverse beeper, fiberglass cab, high-capacity batteries, hard-rubber tires
C-432
Safety Orange
Features:
36 volt electric
Speed up to 9 mph (14 km/h)
Range up to 20 miles (32 kilometers)
Popular additional accessories: fiberglass cab and doors, rear view mirror, strobe light, and turn signals
MX-1600
Industrial Blue
Features:
36 volt electric
Speed up to 12 mph (19 km/h)
Range up to 20 miles (32 kilometers)
Popular additional accessories: headlights, reverse beeper, seat belts, and high-capacity batteries
B-150
Safety Orange
Features:
36 volt electric
Speed up to 12 mph (19 km/h)
Range up to 20 miles (32 kilometers)
Popular additional accessories: strobe light, directional signals, steel cab with doors, diamond plate decking, and side mirrors
B-200
Tan
Features:
36 volt electric
Speed up to 12 mph (19 km/h)
Range up to 20 miles (32 kilometers)
Popular additional accessories: fold-away seats, steel cab with doors, strobe light, and battery watering system
Bigfoot® Lithium Ion
Bright White
Features:
36 or 48 volt electric, or Lithium-Ion electric
Speed up to 12 mph (19 km/h)
Range up to 40 miles (64 kilometers)
Popular additional accessories: steel cab with doors, bed sides, and ladder rack
Bigfoot® Lithium Ion XL
Bright White
Features:
48 volt electric, or Lithium-Ion electric
Speed up to 18 mph (29 km/h)
Range up to 40 miles (64 kilometers)
Popular additional accessories: ladder rack, lockable cargo box, steel panel box, diamond plate deck, and flatbed dump
Bigfoot® 3000
Bright White
Features:
48 volt electric, or Lithium-Ion electric
Speed up to 18 mph (29 km/h)
Range up to 40 miles (64 kilometers)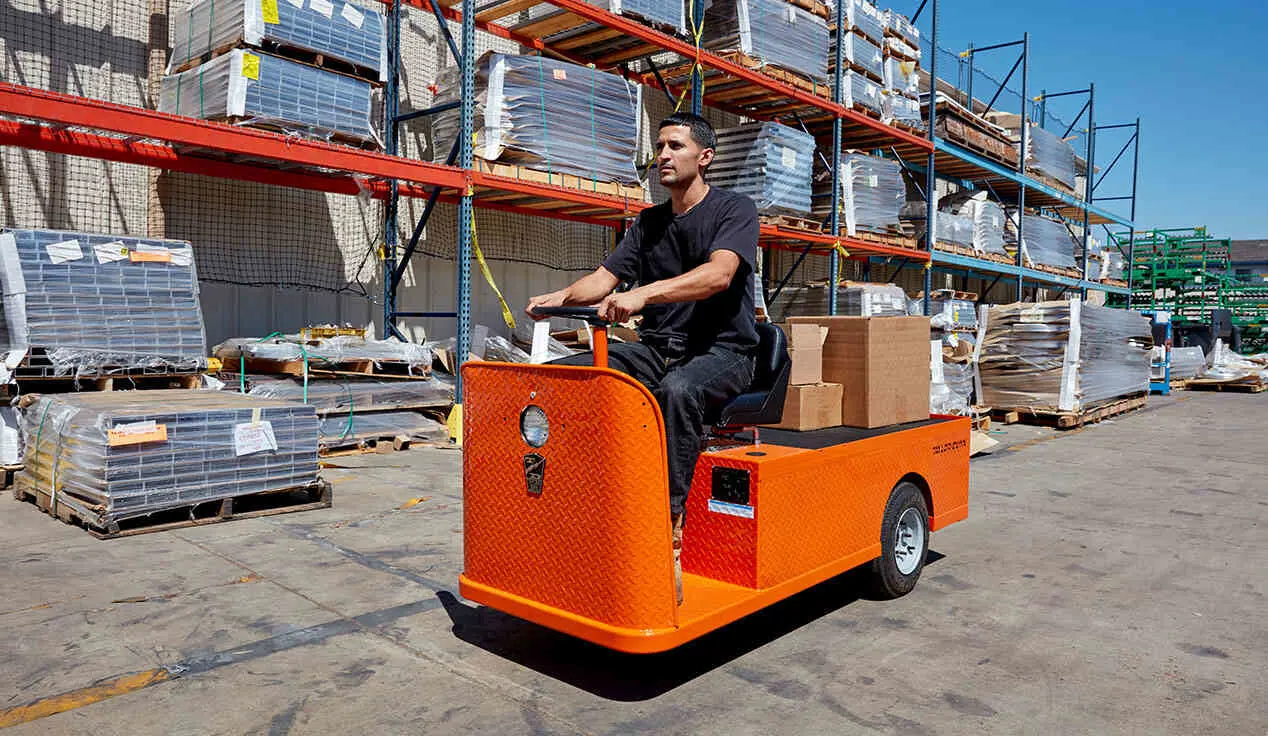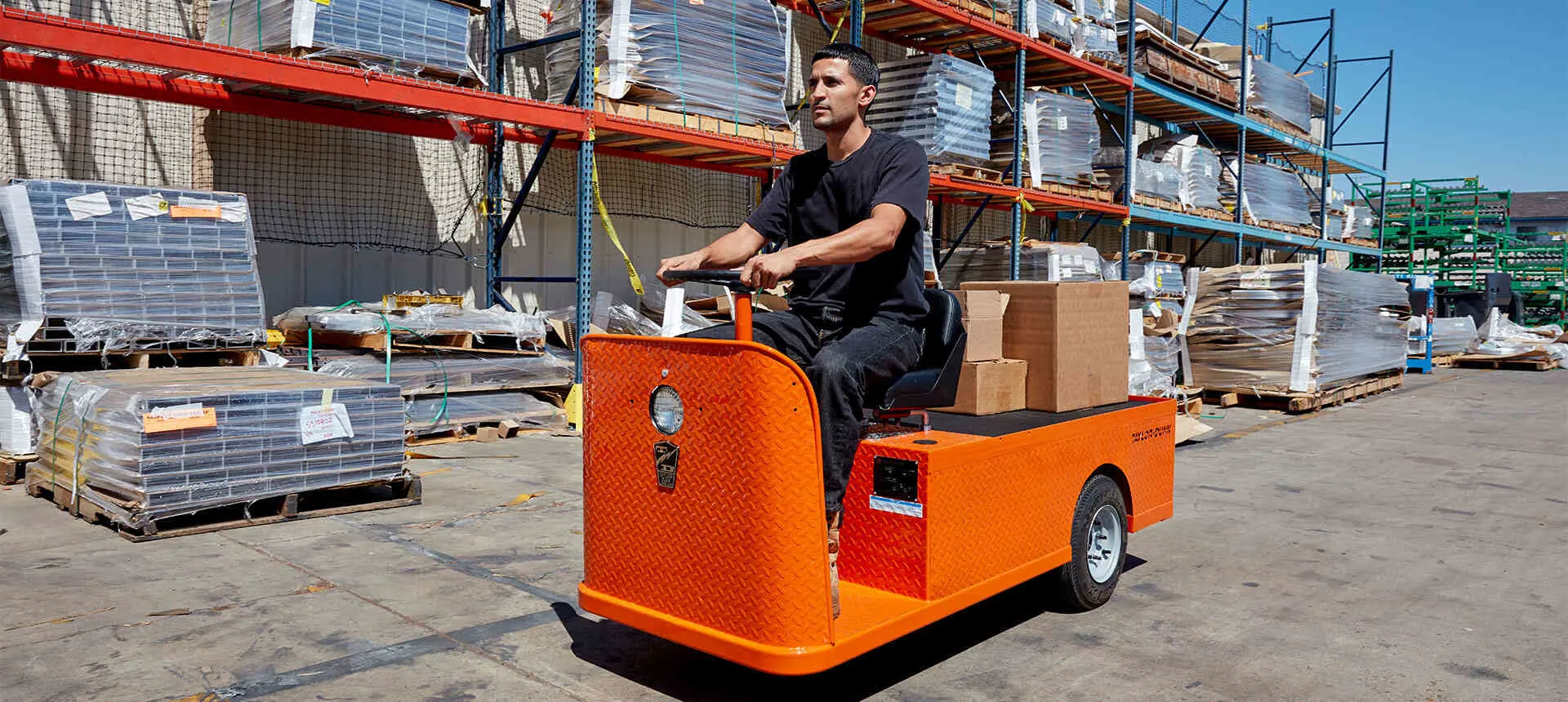 Vehicles
Load Capacity
Towing Capacity
Person Capacity

Vehicles

C-432

Load Capacity

1,400 lb (635 kg)

Towing Capacity

8,750 lb (3968 kg)

Person Capacity

1

Vehicles

MX-1600

Load Capacity

1,000 lb (453.6 kg)

Towing Capacity

7,500 lb (3,400 kg)

Person Capacity

2

Vehicles

MX-600

Load Capacity

600 lb (272 kg)

Towing Capacity

2,000 lb (907 kg)

Person Capacity

1

Vehicles

B-150

Load Capacity

1,600 lb (725 kg)

Towing Capacity

7,500 lb (3,400 kg)

Person Capacity

2

Vehicles

B-200

Load Capacity

2,000 lb (907 kg)

Towing Capacity

5,000 lb (2,268 kg)

Person Capacity

2

Vehicles

Bigfoot

Load Capacity

3,000 lb (1,360 kg)

Towing Capacity

7,500 lb (3,400 kg)

Person Capacity

2

Vehicles

Bigfoot XL

Load Capacity

3,000 lb (1,360 kg)

Towing Capacity

10,000 lb (4,536 kg)

Person Capacity

2

Vehicles

Bigfoot 3000

Load Capacity

3,000 lb (1,360 kg)

Towing Capacity

10,000 lb (4,536 kg)

Person Capacity

2