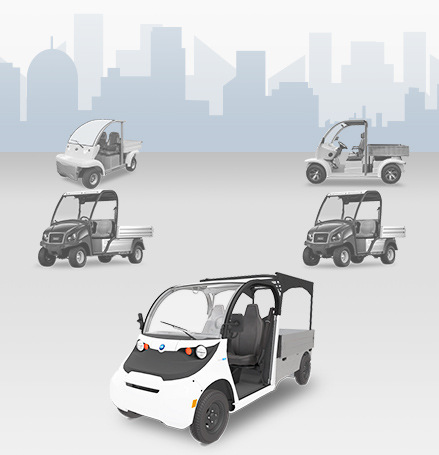 GEM Utility vs. Competitor Utility LSVs
GEM is an all-electric powered low speed vehicle (LSV) that offers premium comfort, exceptional safety features, low cost of ownership and industry leading custom solutions to fit any closed campus, on-road utility, or people moving need. Download the GEM Utility Comparison Chart below for an in-depth understanding of individual specifications to show how GEM stacks up to the competition.
Capability - GEM Utility vehicles have the most payload capacity, box capacity, and towing capacity making them more capable to haul and tow.
Riding Experience - GEM has been ergonomically engineered with tilt steering, adjustable seats and a very smooth suspension to provide an unmatched riding experience.
Safety - GEM exceeds LSV safety standards (as defined by FMVSS500) by including 3-point safety belts, a back up camera, and an Occupant Protection System (OPS) that is roof crush certified to SAE J2358 Standards.
Battery - GEM vehicles have a range of battery and charging options to meet almost any application need.
"We needed something that was reliable, scalable and could be deployed over and over again. Polaris GEM vehicles fit all of those categories, and more."
- Dave Hofert, Cheif Marketing Officer at Perrone Robotics
All information has been obtained from publicly-available and reputable sources, including manufacturer websites and product manuals.