Please consult your GEM dealer for the latest color offerings and options.
GEM e4 Gallery
Explore the GEM e4 gallery and learn why GEM is the smarter way to move.
Street Legal
GEM e4 has safety features that make it a street legal vehicle on roads posted 35 mph or less in most states and provinces.
Premium Comfort
Extra legroom, comfortable seats and superior ergonomic design allow you to ride in leisure.
Safety Features
GEM's LED turn signals and lights, automotive glass windshield and 3 point safety belts will give you an extra sense of security.
Small Carbon Footprint
GEM vehicles are electrically powered and have zero emissions. Drive sustainably with GEM.
Low Cost of Ownership
The average operating cost of GEM vehicles is $0.03 per mile**, significantly lower than vehicles like trucks or vans.
Customizable
Whether it's for utility or aesthetics, GEM has interior and exterior options available from the factory to meet your needs.
Market Applications
GEM vehicles have a wide variety of applications that apply to numerous markets — learn how you can use your e4.
Sustainably and reliably transport students and faculty or haul gear and equipment around campus with GEM.
GEM is street legal so you can easily transport prospective students, faculty, or any other passengers.
GEM will help you transport people around campus or across town comfortably, sustainably, and efficiently.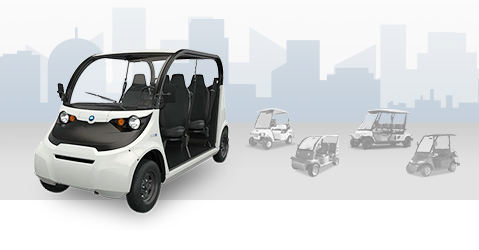 Customize Your GEM
In addition to standard safety and comfort features, GEM offers additional options to make your vehicle perfect for the job.