Please consult your GEM dealer for the latest color offerings and options.
GEM eL XD Gallery
Explore the GEM eL XD and learn why GEM is the smarter way to move.
Street Legal
GEM vehicles are street legal, which means that you can travel from jobsite to jobsite without worrying about keeping off public roads.
Sustainable Work
With all-electric power the GEM eL XD is not only good for the environment, it's good for your bottom line.
The Right Tools for the Job
The eL XD offers a wide range of options such as ladder racks, tool chests and a recessed bed that will allow you to tailor your GEM for the job at hand.
Safety Features
Feel more secure with GEM standard safety features like 3 point safety belts, automotive glass windshield and LED turn signals.
Low Cost of Ownership
GEM vehicles have an average cost of $0.03 per mile**, a significantly lower figure than your average truck.
Work in Comfort
A spacious vehicle with a smooth ride, GEM also offers options like tilt steering, EPS, heater, and defrost so you can focus on the job at hand.
Market Applications
GEM vehicles have a wide variety of applications that apply to numerous markets — learn how you can use your eL XD.
Sustainably and reliably transport students and faculty or haul gear and equipment around campus with GEM.
With up to 1,400 lbs of payload and street-legal safety features, haul your gear across campus with GEM.
Offer an exceptional guest experience with GEM's quiet, all-electric power and premium comfort features.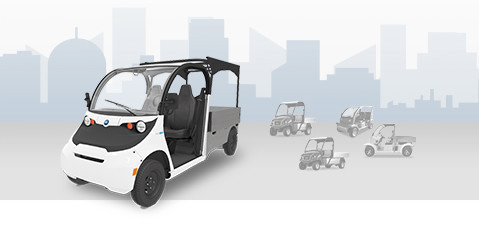 Customize Your GEM
In addition to standard safety and comfort features, GEM offers additional options to make your vehicle perfect for the job.