GEM eM 1400 LSV Gallery
Explore the GEM eM 1400 LSV and learn how you can work smarter.
Work in Comfort
With superior suspension, comfortable seats, optional doors and heater, GEM eM 1400 LSV offers maximum comfort.
Safety Features
GEM vehicles come with standard safety features such as 3 point safety belts, 4 wheel disc brakes and street rated tires.
Street Legal
The eM 1400 LSV is a street legal vehicle, meaning that you can travel from jobsite to jobsite with ease.
Sustainable Transportation
GEM vehicles are electrically powered, making them a sustainable alternative to gas powered trucks and vans.
Towing and Hauling
With a payload and towing capacity of 1,250 lbs, the GEM eM 1400 LSV vehicle can haul some serious equipment.
Customizability
The GEM eM 1400 LSV offers numerous carrier and cab options, and Lock & Ride® accessories to improve productivity.
Market Applications
GEM vehicles have a wide variety of applications that apply to numerous markets — learn how you can use your eM1400 LSV.
Sustainably and reliably transport students and faculty or haul gear and equipment around campus with GEM.
With up to 1,400 lbs of payload and street-legal safety features, haul your gear across campus with GEM.
Deliver an exceptional guest experience with GEM's quiet, all-electric power and premium comfort features.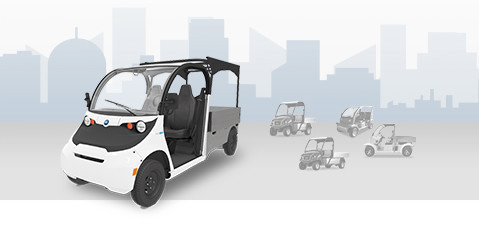 Customize Your GEM
In addition to standard safety and comfort features, GEM offers additional options to make your vehicle perfect for the job.