High-Performance Features
The extra large towing capacities and tough, rugged engineering of industry-leading Taylor-Dunn tow tractors provide cost-effective industrial and ground-support solutions for the hardest jobs.
Not only are Taylor-Dunn tow tractors available in multiple power options, but they are highly maneuverable and fully customizable to meet any need.
Comfort and Safety Features
Increased ergonomics, visibility, and several additional options add to the safety and comfort of operators during daily operations.
TT-416
Ergonomic stand-up tow tractor with up to 16,000 lbs (7,257 kg) towing capacity.
E-451
Stand up tow tractor for tight aisle use.
C-425
Indoor/outdoor electric tow tractor.
E-457
Stand up tow tractor for towing up to 15,000 pounds.
TT-316
Manufacturing and warehouse tow tractor to tow up to 16,000 pounds.
C-426
Compact and maneuverable tow tractor with high towing capacity.
TC-30/50C
Tow up to 50,000 pounds with either LPG or gas power source.
TC-50E
Electric tow tractor for up to 60,000 pounds of towing.
TC-30/60
Tow up to 60,000 pounds in your choice of multiple power source options.
TC-80/120
Tow up to 120,000 pounds available in multiple engine options.
TT-416
Yellow
Features:
36 volt AC electric
Speed up to 6 mph (9 km/h)
60 inch (152 centimeter) turning radius
Optional popular accessories: head/tail light, battery status indicator, hour meter, motion alarm, strobe light, and reverse buzzer
E-451
Safety Orange
Features:
24 volt electric
Speed up to 6 mph (9.6 km/h)
Range up to 18 miles (29 kilometers)
Optional popular accessories: full cab with doors and left side battery extract on frame
C-425
Two Tone: Red/Gray
Features:
48 volt AC electric
Speed up to 8 mph (13 km/h)
Range up to 30 miles (48 kilometers)
Optional popular accessories: brake lights, automatic coupling hitch, motion alarm, strobe light, hour meter, head/tail light, battery status indicator, and reverse buzzer
E-457
Safety Orange
Features:
36 volt electric
Speed up to 6 mph (9.6 km/h)
Range up to 18 miles (29 kilometers)
Optional popular accessories: non-marking tires, rubber front bumper, and strobe light
TT-316
Safety Orange
Features:
36 volt AC electric
Speed up to 8 mph (13 km/h)
Range up to 18 miles (29 kilometers)
Optional popular accessories: full cab with doors, extra cushion traction tires, and automatic coupling hitch
C-426
Two Tone: Red/Gray
Features:
48 volt AC electric
Speed up to 10 mph (16 km/h)
Range up to 30 miles (48 kilometers)
Optional popular accessories: steel cab with doors, heater and defroster, overhead guard, beacon light, reverse beeper, and seat belt
TC-30/50C
Bright White
Features:
LPG
Speed up to 13 mph (21 km/h)
Tow capacity up to 50,000 pounds (22,680 kilograms)
Optional popular accessories: steel cab with locking doors, side view mirrors, strobe light, and PA system
TC-50E
Bright White
Features:
80 volt AC electric
Speed up to 15 mph (24 km/h)
Range up to 30 miles (48 kilometers)
Optional popular accessories: passenger seat, hydrostatic steering, overhead guard, beacon light, and seat belts
TC-30/60
Bright White
Features:
Gasoline, LPG, Lithium-Ion Electric, or diesel (export only)
Speed up to 13 mph (21 km/h)
Tow capacity of 60,000 pounds (27,216 kilograms)
Optional popular accessories: full cab with doors, passenger seat, heater and defroster, turn signals, fire extinguisher, beacon light, and reverse beeper
TC-80/120
Bright White
Features:
Gasoline, LPG, or (diesel - export only)
Speed up to 13 mph (21 km/h)
Tow capacity up to 120,000 pounds (54,000 kilograms)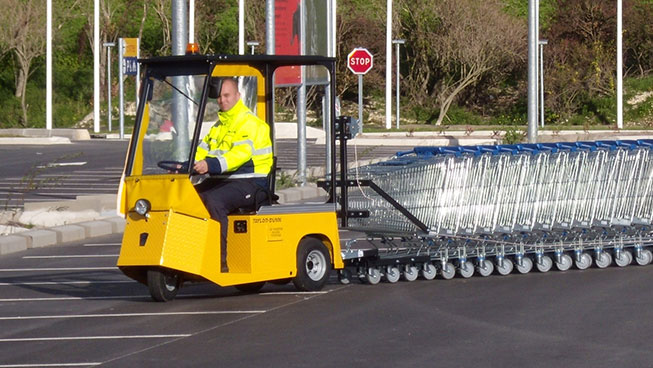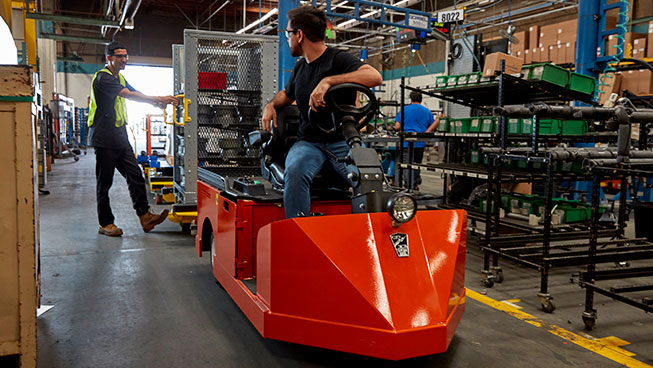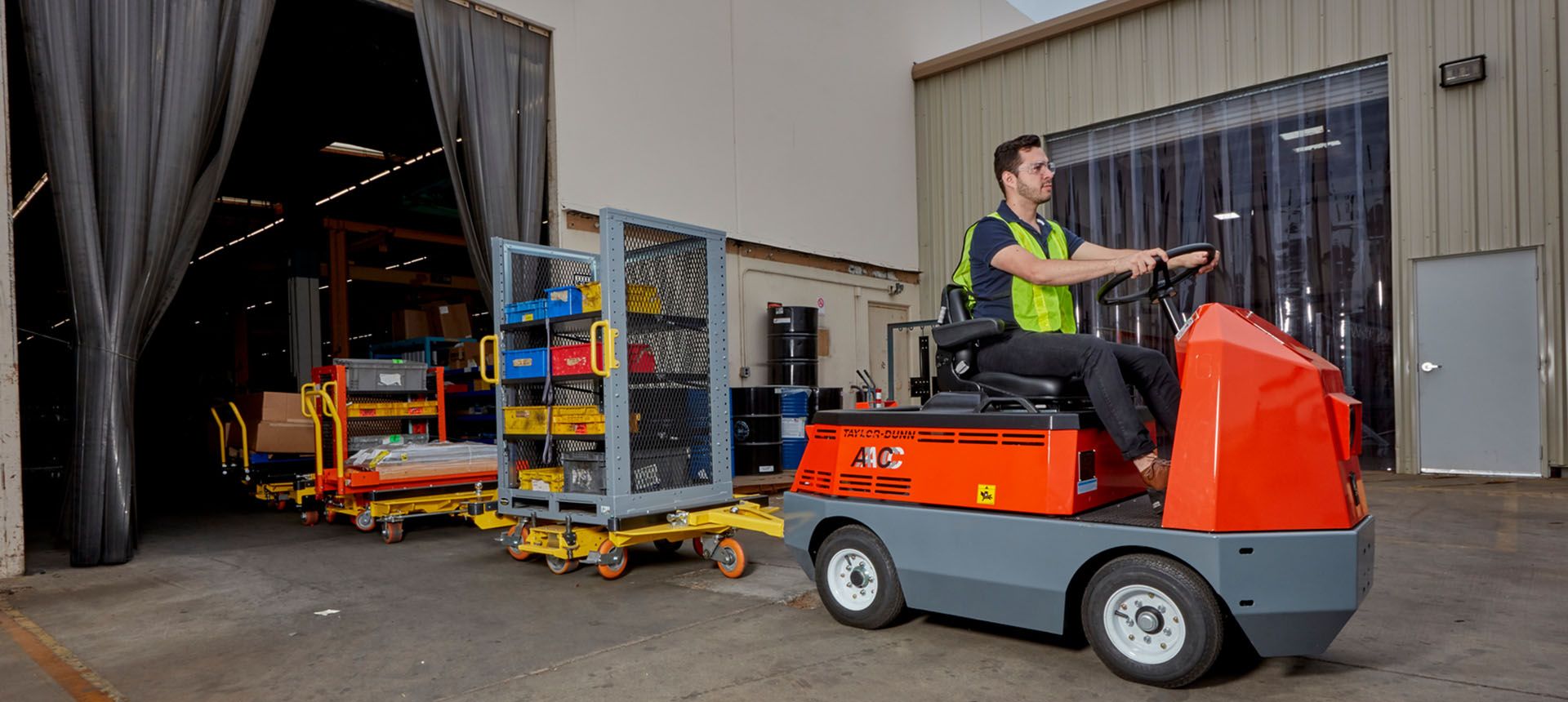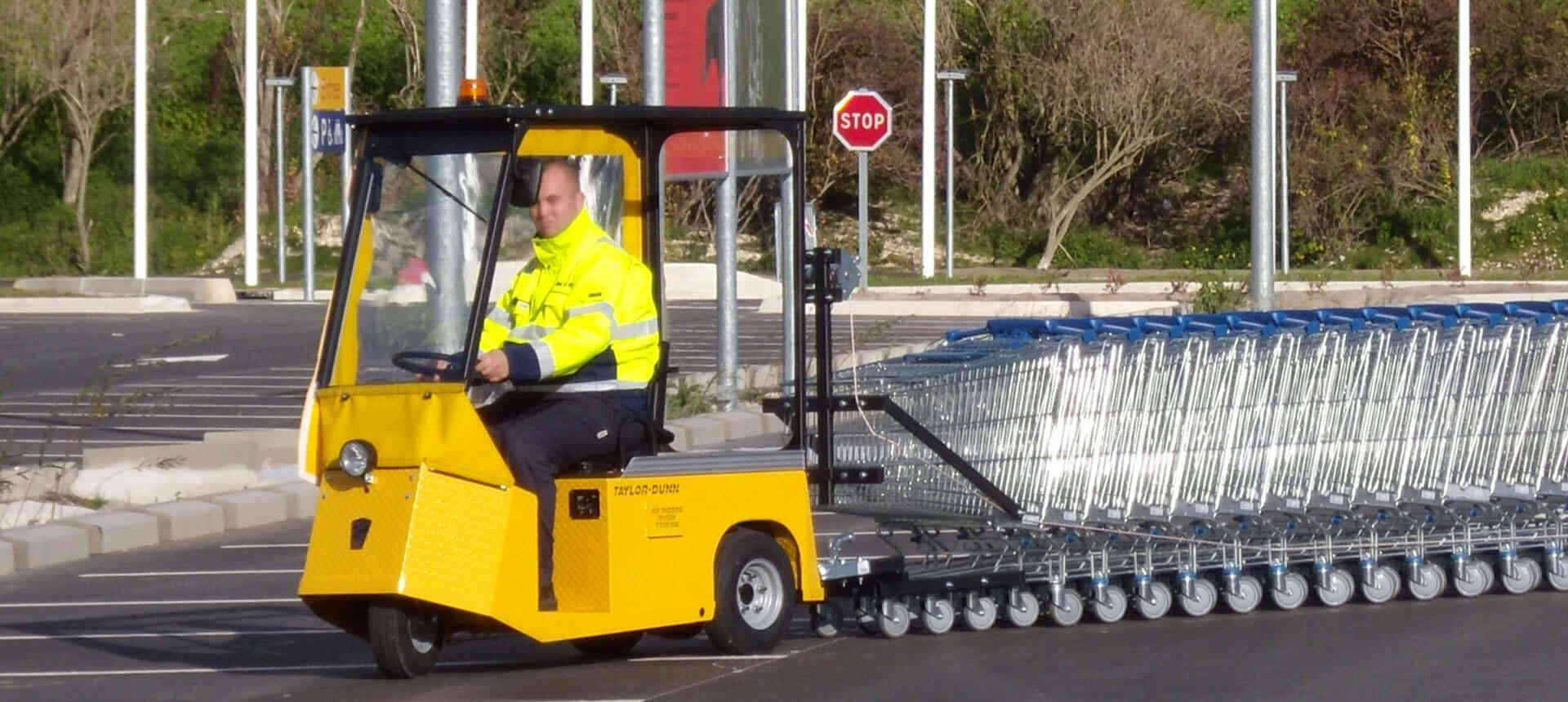 Vehicles
Load Capacity
Towing Capacity
Person Capacity

Vehicles

E-451

Load Capacity

N/A

Towing Capacity

10,000 lb (4535.9 kg)

Person Capacity

1

Vehicles

C-425

Load Capacity

N/A

Towing Capacity

15,000 lb (6803 kg)

Person Capacity

1

Vehicles

E-457

Load Capacity

N/A

Towing Capacity

15,000 lb (6803.8 kg)

Person Capacity

1

Vehicles

TT-316

Load Capacity

400 lb (181 kg)

Towing Capacity

16,000 lb (7257 kg)

Person Capacity

1

Vehicles

C-426

Load Capacity

N/A

Towing Capacity

30,000 lb (13607.7 kg)

Person Capacity

1

Vehicles

TC-30/50C

Load Capacity

N/A

Towing Capacity

50,000 lb (22679 kg)

Person Capacity

1

Vehicles

TC-50E

Load Capacity

N/A

Towing Capacity

60,000 lb (27215 kg)

Person Capacity

1

Vehicles

TC-30/60

Load Capacity

N/A

Towing Capacity

60,000 lb (27215 kg)

Person Capacity

1

Vehicles

TC-80/120

Load Capacity

N/A

Towing Capacity

120,000 lb (54431 kg)

Person Capacity

1