Power and Dependability Features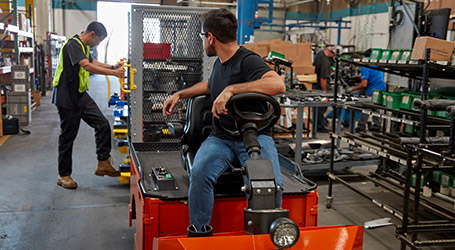 Optimal Towing Capacities
Taylor-Dunn tow tractors provide towing capacities up to 60,000 lbs.
Taylor-Dunn vehicles are built to last on a heavy duty steel frame, that's why they continue to be the market leader year after year.
All-wheel suspension and hydraulic disc brakes come standard on your Taylor-Dunn tow tractor. Combined with available features such as parking brake and remote hitch release lever, you can rely on the smooth operation of your vehicle.
Taylor-Dunn OEM parts are dependable, competitively priced, and engineered to last for years of rugged performance.
Taylor-Dunn tow tractors are available in gasoline, diesel, electric and LPG power offerings, providing flexibility to any work requirements.
Designed to maneuver through tight warehouse aisles, Taylor-Dunn tow tractors exhibit a conveniently tight turning radius, as well as a manual inching option.
If you need more than the published options to meet your particular needs, Taylor-Dunn can factory modify and customize a vehicle that's right for you. Customized features could include cab, doors, non-marking tires, adjustable operator's seat, rubber front bumper, and tilt telescoping steering wheel.
Comfort and Safety Features
Taylor-Dunn vehicles can be configured with strobe lights, flashing emergency lights, reflectors, and light bars in order to increase visibility during daily operations.
Warning Sounds and Emergency Cut-Off
Available features to increase safety include reverse buzzer, electric horn, and emergency power cut-off switch.
Stand Up and Sit Down Options
Stand up and sit down driving options are available to allow flexibility, comfort and increased ergonomics for operators.
Optional Comfort Features
Additional features available to increase comfort may include fiberglass cab, heater, or clipboard holder.