Polaris Commercial par industrie
Des visites de campus au transport de marchandises en passant par la mobilité sur le chantier, Polaris Commercial offre des véhicules qui déplacent des personnes, de l'équipement et d'autres charges utiles dans ces industries et bien d'autres.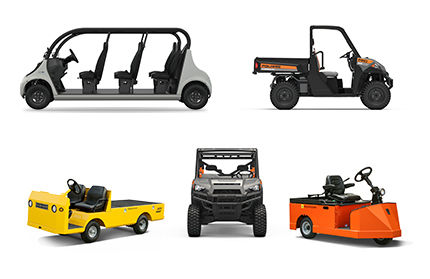 Trouvez le véhicule qui répond à vos besoins
Narrow down our lineup of models and compare up to 3 vehicles at a time.

Pourquoi Polaris Commercial
Avec une large gamme d'accessoires et un support dédié, Polaris Commercial s'engage à vous aider à trouver le bon véhicule utilitaire pour répondre à vos besoins, augmenter votre productivité, réduire vos coûts et effectuer le travail correctement.
GEM et Taylor-Dunn font désormais partie de Waev Inc. – En savoir plus ici.